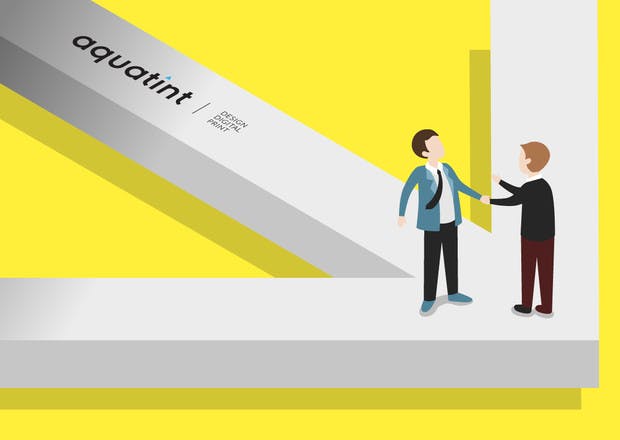 The moment has come and gone for new year's resolutions but the first few months of the year represent the ideal time to re-examine whether you could do more. Whether that's doing more to cement brand awareness or making the way that you deal with ordering new print assets more efficient, there are plenty of opportunities to improve operations in 2018 via a partnership with Aquatint. We are proud to say that our client relationships are long and tend to be a process of mutually beneficial evolution. If your business needs a boost in 2018 then partnering with us could provide the energy and ideas you need to get closer to your strategic vision.
Consolidate or redesign your brand identity
The brand that you create is one of your businesses' most valuable assets. Good branding not only improves the value of the business but motivates your workforce and makes it easier to acquire new customers. You might be looking to consolidate existing branding, or to redesign your brand identity to new values and objectives – Aquatint can help you to hone your design and the impact you have.
Redesign your website
According to Adobe, given just 15 minutes to consume digital content two thirds of people will always choose something beautifully designed over something plain. Does your current website do your business justice or could you be losing a chunk of your audience because your online presence is plain and uninspiring? However, it's not just aesthetics where a redesign could contribute to client retention and conversions – Adobe also found that more than a third of people will bounce from a website where images are taking too long to load or won't load at all. And 86% of visitors to a website expect it to display enough information about products and services. Your website is a key tool for your business, don't waste the competitive advantage that it could provide.
Client example: Cameron and Wilding
Simplify and streamline your online ordering process
The Aquatint Brand Hub presents a unique opportunity for streamlining your online ordering for just about anything. This multi-site marketing tool uses web to print software to provide oversight and control when it comes to branding and budgets. For those who are keen to exert better branding control, or looking for new ways to organise branding assets, this could be a game changer.
Client example: Big Yellow
Create new marketing assets
In today's ultra competitive world businesses need to get creative to be seen. We offer inspiration and design of a very wide range of marketing assets, from brochures and flyers to business cards. Did you know that 56% of customers find print marketing to be the most trustworthy form of marketing? So, if you don't have a print element to your marketing arsenal you could be missing out.
Client example: Royal Academy of Dance
Expand your reach in spite of the GDPR
Consent to contact has become a minefield with the introduction of the GDPR. However, businesses can use legitimate interest with direct mail and, in doing so, should not be subject to the new rules on contact consent contained in the GDPR. So, if you're feeling intimidated by the incoming regulations and the impact it could have on how you reach people, this might be the time to invest in direct mail. We can design beautiful direct mail campaigns that will give you an edge in the new era of GDPR compliance.
Client example: Picturehouse
Perfect your event or conference planning
According to EMI & Mosaic, 76% of marketers say their event and experiential marketing initiatives are integrated with their other marketing campaigns. Are yours? Plus, with 71% of all ticket buying happening online, it is becoming increasingly important for an event planning strategy to include digital design targeted at purchase locations, An in-depth understanding of the evolution of the events and conference planning industry has informed the suite of services we can offer. Our bundles for event or conference planning include:
Print and fulfillment
Design and branding
Digital design (e.g. online portals, booking engines)
Digital and print marketing materials
Merchandising
PowerPoint design
These are just some of the services we provide that could support your business to greater things this year. If you would like to find out more about partnering with Aquatint then contact one of the team.