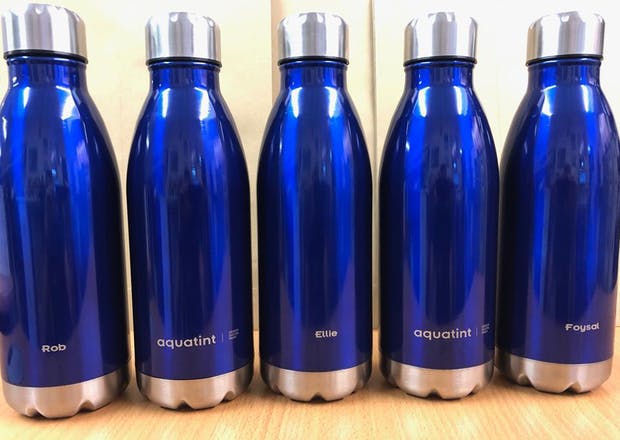 Following on from David Attenborough's Blue Planet series, and his recent appearance at Glastonbury where he got one of loudest cheers of the whole festival, the use of single use plastic bags is quite rightly big news at the moment.
Therefore Aquatint has decided to give every member of staff their own personalised Aquatint branded water bottle and ban the use of single use plastic bottles and cups on our premises.
If you would like to follow suit please drop us a line and will we happily provide you a quote to produce your own company branded, personalised water bottles for your staff, or indeed any other non single use plastic branded good such as bamboo pens for example!
Below are some facts and figures on why we should be banning the use of single use plastics to ensure our planet remains healthy for future generations;
If no action is taken, "by 2050 there will be more plastic than fish in the oceans".
How long till they're gone?
Estimated time taken to biodegrade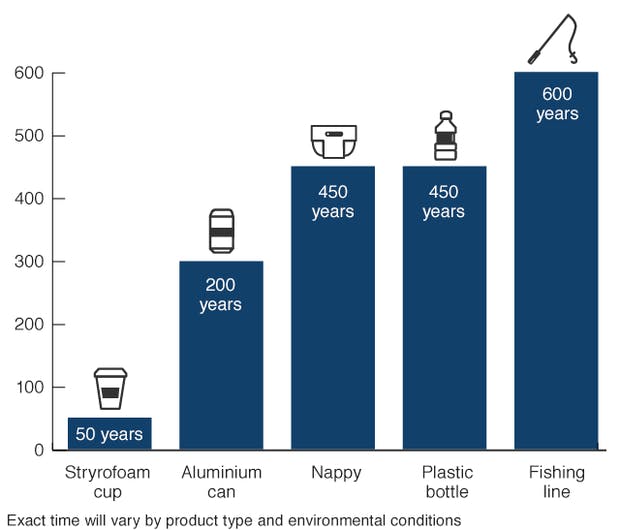 Source: NOAA/Woods Hole Sea Grant
How big is the problem?
Research on the topic says about 150,000 tonnes of plastic are tossed into European waters every year.
That is only a small contributor to the global problem, with an estimated eight million tonnes of plastic entering the world's oceans annually. And once there, plastic can travel great distances on ocean currents.
Marine litter on EU beaches
Source: European Commission, 2016 figures
Those plastics have a huge effect on marine life.
Fish and large aquatic mammals can be killed by the pollution. Whales can eat plastic bags, making it impossible for them to eat real food which can eventually lead to death.
When plastic debris breaks down from wear and tear, it does not decompose the way other products like wood do – but instead breaks down into smaller and smaller pieces, becoming "microplastic".
These tiny fragments often end up in fish and can then be passed on to humans.
Large volumes of plastic waste wash up on beaches, where they can be eaten by sea birds and other animals and kill them.
However small let's all try and do our bit to ensure that the worrying statistics above don't increase and we can stop destroying our planet and it's eco-system.