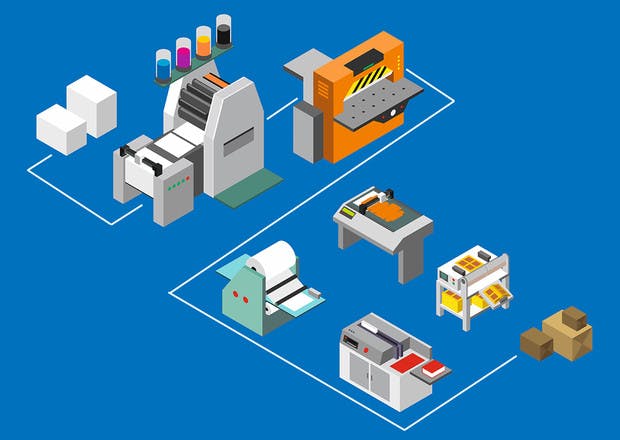 Print is not dead….long live print!
When digital first became a driving force it was widely thought that print would soon become obsolete. Digital options – such as social media advertising and e-mail marketing – have benefits of cost and reach so how could they not overtake print as the most popular marketing means? In fact, print marketing has remained robust – so robust that the latest figures from the Office for National Statistics show print sector productivity at the highest levels since records began.
Why print remains robust
56% of customers find print marketing to be the most trustworthy form of marketing. Digital marketing methods have yet to establish the same level of authentic trust with consumers, particularly given the high volume of scams, hacks and phishing scandals that have affected businesses in increasing numbers.
Print marketing is highly effective. Using printed products in your marketing really works, which is one reason why print has never yielded to digital. For example, direct print mail marketing delivers, on average, a 13-1 return on investment. That's a figure that is difficult to argue with.
Businesses still invest in print. In advertising terms the internet has become the top ranked media in terms of share, according to the British Printing Industries Federation. However, interestingly, the print sector comes in second – even ahead of TV.
The benefits of working with print marketing
As part of an integrated marketing solution, print has a big role to play for most businesses. Digital means alone simply cannot deliver a fully rounded strategy, as there are some benefits that are unique to the printed word.
Print is tangible – the average email open rate is around 24%. By comparison, 79% of households say they read or scan printed direct mail. There is something very substantial and accessible about printed materials that gives them an edge over digital. Print collateral can be used as a tool at events and tradeshows, handed out in person, and brochures or marketing packs can be left with clients or prospects. Print materials have the benefit of being physical, making them feel like a much more human way to interact.
Print looks good – yes, digital design can be pretty impressive, we know that as well as anyone. But print can be beautiful. The colours, the finish, the impact of the shape combined with the design…even those who are not aesthetics freaks like us at Aquatint still get a tingle from a beautifully designed and made print product.
Print is 'new' – well, it is and it isn't. Obviously printed materials aren't a new concept in themselves but when it comes to modern marketing they are increasingly offering a much more novel approach. For several years now all the attention has been on digital and brands have focused on this as a way to reach consumers. Those businesses using print methods in addition to digital stand out as the new innovators.
Print allows you to cut through the noise. Let's face it digital marketing is certainly effective but only if you can get your target customers to 'hear' you. It's difficult to cut through the noise if you're one of many businesses creating it using the same methods and channels. Print marketing tends to be a much clearer and more unambiguous form of communication and can leave a longer lasting message.
How to make the most of print marketing in 2017
Print has a big role to play in marketing strategy – integrated with digital and other offline options it can be the differentiator for your brand. There are many ways in which you can use it, for example:
Create conference materials to stand out from competitors and give attendees something physical to take home with them
Design impactful print materials for clients and prospects to attract attention and provide a more durable source of information on your business
Implement powerful direct mail campaigns to make your brand stand out and take advantage of high direct mail read rates
Use beautiful business cards to create consistent branding and expand contact networks with memorable graphics and design
Invest in printed promotional products that give your brand an edge
Aquatint is a unique business in that we specialise in both digital and print. Whether you're looking to implement print marketing or seeking ways to integrate it with existing digital investment we are perfectly positioned to help you do it.