Aquatint have worked with Golden Tours for over twenty years, working closely with the marketing team and senior management. We design most of their marketing collateral which requires updating every year including; the Sightseeing Deluxe brochure, Hop-on Hop-off leaflet and the Harry Potter brochure. In past years we have also designed the coach and bus livery, along with office signage. In 2017, we designed the advertising material displayed in all the TFL ticket offices in London.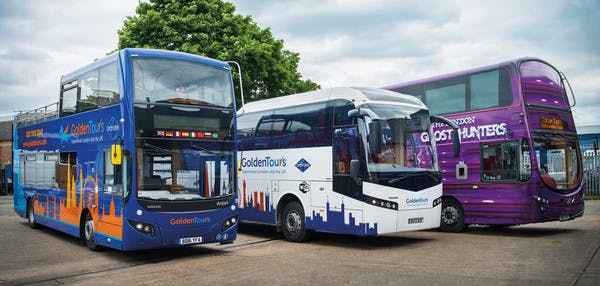 Due to the nature of the Golden Tours business, many of the items we design need to be launched before the Easter holidays for the start of the tourist season. Therefore, December to March is always a very busy time for Golden Tours work.
This year 2018 we have completed the Deluxe Brochure, Hop-on Hop off leaflet, Harry Potter brochure, Hop-on Hop-off condensed leaflet, Bike Tours & Walking Tours leaflet, coach destination boards and various posters. These publications have all required us to work very closely with the team at Golden Tours, often working to tight deadlines and setting milestones for delivery along the way.
We look forward to continuing our working relationship with Golden Tours and would like to thank them for their continued support.
We would also like to congratulate the founder of Golden Tours Nick Palan, Chairman and CEO for his recent MBE.