ADP was founded in 1965 and has grown to become one of the most respected and stable Architectural practices in the United Kingdom. The practice is currently ranked in the top 30 of the Architects' Journal AJ100 Survey of UK practices. From original offices in Henley, ADP has grown to international standing and now has studios in Birmingham, Delhi, London, Manchester, Newcastle, Glasgow, Edinburgh, Oxford and Sherborne.
Brief:
To accompany the launch of ADP's new website, Paul was comissioned to produce a series of images that could be used as the new face of ADP. This included looking at how to present staff profile images, to be relaxed, friendly and approachable; plus shooting a series of images that reflect the operations and workings of the company. The images were to be used on the new website and also for publications and marketing material.
What we did:
The work involved traveling to three locations within the UK, shooting staff images and capturing the workplace environment of each studio.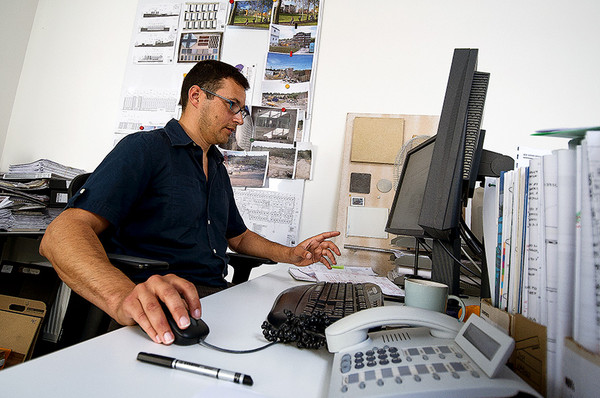 Staff imagery was to be a key area where ADP could demonstrate character and personality; and it was we decided that staff images were to be accompanied by a random overlay object, that was to be personal to each staff member.

The photography solution was to produce square images, where the sitters posture was not uniform. This was a play on architectural thought, considering environment as well as your object; and when the staff images were displayed together the idea was to create the random white spaces around them. The space and the lack of uniformity helped create the feeling of friendliness and approachability, whilst maintaining the professionalism and integrity of the ADP practise.
See the ADP staff page at http://www.adp-architecture.com/people.html